We have a well-established and proven track record in the area of consulting and sports representation.
This is because we have employees, representatives and connections throughout the world.
Many of our clients are regarded as the most prominent and notable figures in high level sports, and have promising and talented youngsters, especially when it comes to the domestic football market. We work with a variety of clients both on the international and national level, and are based in Scandinavia.
Here at Modyr Management, we are fully aware of the fact that the success and good performance of a football player in the industry not only depends on their physical performance, but also on a group of specific factors. This is the primary reason why our consulting services include complete advisory services and top-notch legal advice for the sports professional. It also includes sports marketing, representation as well as specialized and timely medical attention through our diverse group of partners.
This is why our consulting team is staffed with prestigious and renowned professionals who have sufficient and relevant experience when it comes to both elite and grassroots sports, law, medicine and psychology. This allows Modyr Management to provide comprehensive and complete service to all our athletes and professionals, whether they are promising youngsters or well-established and elite professionals.
We offer professional competence and experience allowing our clients to achieve their potential. Modyr Management has a strong and well-balanced team with specialized experience in international and national football as well as sound academic knowledge. Leveraging our global and extensive football network, we can come up with the most suitable solutions for coaches, players, and clubs.
We connect our clients with a variety of diverse and international opportunities in the realm of football. Modyr Management strongly believes and advocates that a strong and meaningful relationship with all our clients is the key to effective coordination and cooperation. Also, Modyr Management believes that every client is unique and has different needs, and as a result, we strive to satisfy the specific needs of each client. This is the main reason behind our holistic approach to management.
Our team of experts is in a unique position to provide the most effective solutions. It is also especially qualified and experienced to adequately defend the various interests (often competing) of different companies and personalities within the world of football. Also, our specialization and competence in contract negotiations are grounded in long-lasting experience.
We strongly believe in forging strong and long-term relationships that are built on integrity, professionalism, trust, and transparency. These values define our approach and philosophy and also the way our agency works. This is why our code of ethics is not just a piece of paper or a declaration of intent; it is our compass that guides us in the right direction.
Our professionalism and unique way of working are manifested in our integrity, commitment and the highly personalized services that we provide to all our clients. We have an in-depth and comprehensive knowledge and experience of both international and domestic football market. At Modyr Management, the football professionals and athletes we represent are not only our source of joy and pride but are also, the vital assets of our business.
And just like most other assets, our job is to nurture, protect and do everything that is possible to maximize their potential. Although we know that professionals in the field of football usually have no shortage of useful advice, tips, and support at various important stages in their professional career, we just cannot deny that there are certain times when there are gaping voids in their career where the supply of support and advice is scanty.
A player who is on the mend after a long-term or serious injury usually complains that his phone does not ring, or that his agent is too busy to call. And you know the player does not need to call and discuss his situation with a lawyer. This is why at Modyr Management we offer a complete consulting and mentoring service to all of our clients. The services are rendered by former sports professionals and football players who have been through similar situations in their careers. They have been there and done that.
Also, as these former football players are neither lawyers nor agents, they have no personal agenda or ulterior motive. As a result, they are available throughout the season to help our clients with financial consultancy and emotional and practical advice and support, throughout the highs and lows of their professional careers, whenever they need them.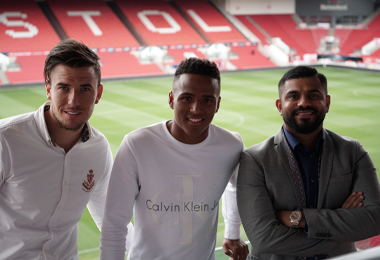 Niclas Eliasson with Nima and Andreas at Ashton Gate Stadium.
- Contact Us
If you are interested in what we have to offer please do not hesitate to get in touch with us.
Our Location
Stadiongatan 51A,
217 62, Malmö,
Sweden
- Write Us